Let's get back into recipes! What better way to celebrate the Memorial Weekend than to share two of my favorite get together recipes. Whether it's for a cookout, BBQ, or grilling get together, whatever you call it, the season is upon us. Time for longer nights, warmer days, and bigger parties. Beside how wonderful these taste, I love them because they are great do ahead recipes. Perfect for allowing you to socialize, lounge around and drink with your guests.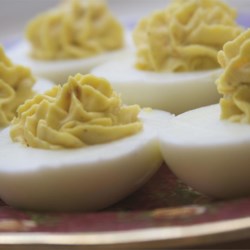 First off is Bacon Cheddar Deviled Eggs. It's true what they say you know. Everything DOES taste better with bacon. Besides deviled eggs, you've got Bacon Risotto (you can find
HERE
), and how else do you get the hubby and kids to eat asparagus than to wrap it in bacon!
Bacon Cheddar Deviled Eggs
Ingredients
12 eggs
1/2 cup mayonnaise
4 slices bacon
2 tablespoons finely shredded Cheddar cheese
1 tablespoon mustard
Directions
Place eggs in a saucepan, and cover with cold water. Bring water to a boil and immediately remove from heat. Cover, and let eggs stand in hot water for 10 to 12 minutes. Remove from hot water, and cool. To cool more quickly, rinse eggs under cold running water.
Meanwhile, place bacon in a large, deep skillet. Cook over medium-high heat until evenly brown. You can also wrap bacon in paper towels and cook in the microwave for about 1 minute per slice. Crumble and set aside.
Peel the hard-cooked eggs, and cut in half lengthwise. Remove yolks to a small bowl. Mash egg yolks with mayonnaise, crumbled bacon and cheese. Stir in mustard. Fill egg white halves with the yolk mixture and refrigerate until serving. The easiest way to fill the eggs is to load up a ziploc bag with the mixture, cut the top off of one end, then pipe the filling into the eggs.
Next up with have Sweet Potato Salad. This salad has a great combination of regular russet potatoes and sweet potatoes. It's also a great base if you love lots of extras in your potato salad. I'm a plain jane kinda girl and just the potatoes, mayo, mustard, eggs, onion, salt and pepper are fine with me. But feel free to add whatever you love in yours: olives, celery, onions and yes even BACON ;)
Ingredients
2 potatoes, chopped
1 sweet potato, chopped
4 eggs
1/2 onion, chopped
3/4 cup mayonnaise
1 tablespoon prepared mustard
1 teaspoon salt
1 1/2 teaspoons ground black pepper
Directions
Bring a large pot of salted water to a boil. Add potatoes and cook until tender but still firm. Since it usually takes longer for sweet potatoes to cook than russet, I boil in two sepearte pots. Drain and cool.
Place eggs in a saucepan and cover with cold water. Bring water to a boil. Cover, remove from heat, and let eggs stand in hot water for 10 to 12 minutes. Remove from hot water; cool, peel and chop.
Combine the potatoes and eggs.
Whisk together the mayonnaise, mustard, salt and pepper. Add to potato mixture, toss well to coat. Refrigerate and serve chilled.
Enjoy your summer!!